HERE I AM, SINKING INTO A CARPET OF COOL GRASS,
WHITE FLOWERS DANCE LIKE EARTH-BOUND ANGELS
AS THEY NOD SLOWLY ABOVE MY HEAVY EYES.
THE WIND IS A RUSH IN THE TREETOPS ABOVE
AND MY LAZY BONES EASE INTO THE SOFTNESS BELOW.
TINY PIXI-LIKE FLOWERS POP UP BESIDE ME
AND A GUSH OF COLD YELLOW FOAM LETS ME SEE GNOMES
IS THERE SOMETHING HERE JUST BEYOND REASON?
IS IT THE DREAM I SWORE NOT TO FORGET?
I AM I, WHICH IS MYSELF.
YOU ARE YOURSELF, AND I DO NOT KNOW
WHY MY DEAR OBLIVION CAUSES SUCH ANGER.
I OWN A WISH WITHIN A GARDEN
WHERE SPIDERWEBS DRIP WITH MORNING DEW.
TRANSLUCENT SPIDERS SHIMMERED IN SUNLIGHT.
THE TENDER CURL OF A GRASS BLADE
SURROUNDS MY TOE LIKE A LOVE UNKNOWN.
THE WHITE NICOTIANA TRUMPETS UTTER DEEP MELODIES
TO OLFACTORY SENSES WHEN THE SUN GOES DOWN.
I AM A BUNDLE OF NERVES THAT EXPLORE A STRANGE WORLD
I AM THE NOD THAT ENDS A LONG DAY.
SO BITTER IN SORROW I SEEK LONG COMFORT.
LOST IN MY VIEWS, I EMBRACE DEAR OBLIVION.
I WOULDN'T CALL IT A DREAM COME TRUE,
BUT IT'S BETTER THAN BEING SCALPED BY REALITY.
AH-JEAH!
1997- REV. J. DMITRI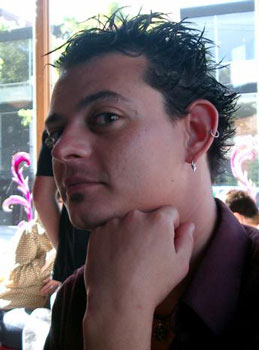 August 24, 2003, in Seattle at brunch with me.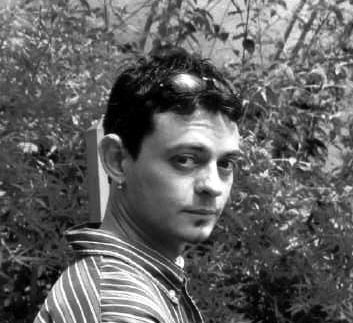 It just keeps slowing up and turning down.
Skelter time races headlong into nothing.
It's always a question for you, boy, isn't it?
Scraggly-bearded sailors wait hungrily at the door,
Looking for something they forgot back home.
So bring your wife a present, a souvenir
From the delicate reaches of your mind.
We'll all fall ill and snuggle with worms
Of deceit, malice, and satiny sweet-nothings.
Don't leave me alone, for fear I might die.
It is the end we all consume today.
Please spare the pain.
Looking back, I see a useless struggle.
People have hated and killed for the sake of a moment;
A moment in dream; a wasted second in time.
I am becoming so tired that I must cease writing.
Oh, I feel like a stone.
The runnings are broadening.
Here all trails begin.
We'll live 'til the end.

06/30/1997 Rev. J. Dmitri Kessler